VL & SONS AGRO FOOD PRODUCER CO LTD
"Women's Home Industry" meet
VL & Sons Agro Food Producer Company organized a workshop for women on papad home industry.
Mr. Hershal Bhai Chheda, Managing Director of Ganesh Papad guided the women in this workshop.
The workshop was attended by a large number of women from the area and gave spontaneous response
Publication of Corporate Brochure:
When publishing a company brochure
1. Shri Vishwajeet Kadam, Minister of State for Agriculture, Maharashtra
2. Founding member of the company
3. Shri Prabhune Saheb of All India Radio Satara and Shri Abhyankar Saheb of NABARD Satara
4. The entire team of Agriculture Department Satara
Appreciation of the work from the Dignitaries
Shri Shamrao ( Balasaheb )Patil Saheb, Minister for Co-operation and Marketing, Maharashtra and Shri Prithiviraj Chavan (BABA) MLA and Former Chief Minister of Maharashtra appreciated the work of the company
Also, the Minister of State for Agriculture of Maharashtra, Shri Vishwajeet Kadam Saheb and Dr. Indrajit Mohite (VP- Bharati Vidyapeeth ) paid a visit and got information about the products of the company and assured all cooperation.
Agreement with Rajaram Solvex Company
VL & Sons Company enters into soybean purchase agreement with Rajaram Solvex Limited
The agreement has made it a major permanent buyer for farmers' soybean crop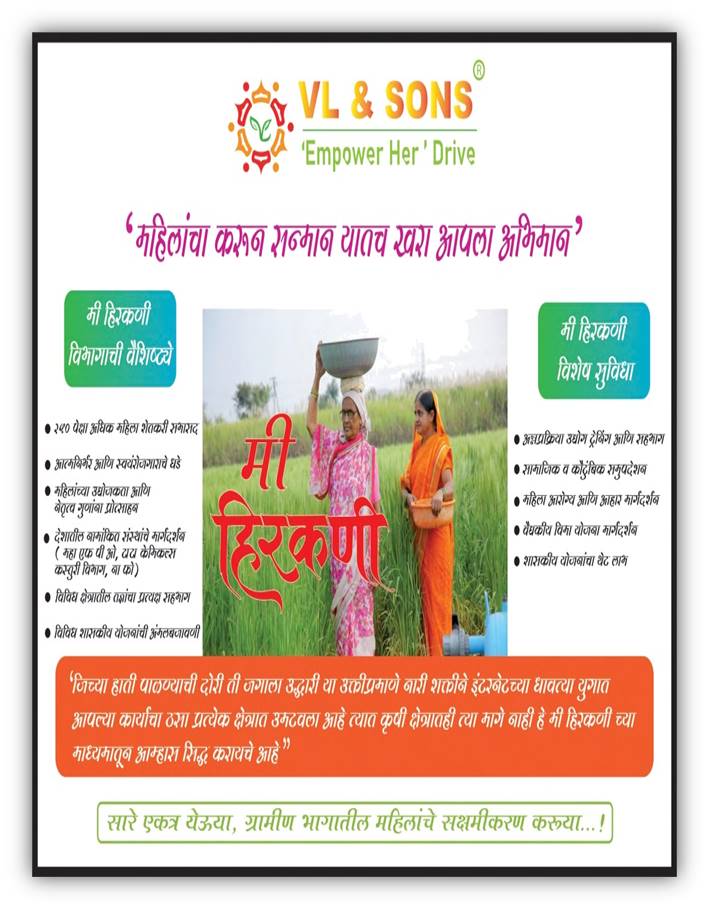 Through VL & Sons® set up a "Me Hirakani" section for women farmers under leadership of Mrs. Vidya Uday Patil
More than 300 women farmers have been added to our Hirakani Group
Implementing various activities like water management, organic farming, buying and selling of agricultural commodities, seed production, Farm mechanization etc.
Launching the agro-processing industry to empower women
Medical team is providing social and family counseling to women farmers
Getting guidance from various reputed organizations in the country for women farmers
Honorable Member of VL & Sons Mrs. Vidya Patil was honored with the Progressive Women Farmer Award from ShriNiwas Foundation
She was also honored by Krishi Vigyan Kendra on the occasion of National Farmers' Day
Also Interview of Mrs. Vidya Patil was aired on All India Radio Satara Kendra taking note of the work of VL & Sons.
Establishment of Farmers Producer Company, and appreciation from Department of Agriculture, Govt of MH
VL & Sons has set up a farmer's producer company and started Soyabean and agro produce procurement center. The initiative was appreciated by the Department of Agriculture.