Spices
Indian spices include a variety of spices grown across the Indian subcontinent (a sub-region of South Asia). With different climates in different parts of the country
Pulses
Pulses are an integral part of Indian cuisine VL and Sons is big name engaged in processing and supplying a premium quality Pulses
Cereals
VL & Sons wheat grains deliver a variety of important nutrients, including vitamins, minerals, protein, fiber, and other healthy plant compounds.
Oil Seed
VL & Sons Farm peanuts has beautiful texture and even round shape and less oil content makes it preferable for direct consumption in various snacks and flavoured items
Flours
VL & Sons Flour is rich in protein iron and copper, this gluten free grain has been known to play a crucial role in cellular function and repair The flour is also used in preparations..
Sugar & Jaggery
Sugar has been produced in the Indian subcontinent since ancient times and its cultivation spread from there into modern-day we provide quality and precise sugar with filteration
VL & Sons Red chili Powder is pure spice derives its essence from the finest quality red chillies. Packed with the utmost care, we ensure that it retains its freshness, colour and flavour.
Turmeric Powder
Turmeric powder the most frequently used ingredient in Indian cooking after salt, VL & Sons Turmeric powder is a combination of pure quality, fresharoma and lively colour.
Coriander Powder
It has a pleasing aroma and savour.It alleviates gas and aids digestion. Coriander powder is an essential condiment in barbecue. Like the leaves and the seeds, coriander powder is very beneficial in medical practices.
Jira Powder
VL & Sons brings to you the best quality Cumin and blend it properly then packed with utmost care to retain freshness and flavour.
Black Pepper Powder
VL & Sons Black Paper Powder is one of the best quality spices which are completely suitable for using in any of your spices to create it mouth-watering.
Aamchur Powder
VL & Sons Amchur powder is one of the most important ingredient in Punjabi cuisine. It is added to many popular Punjabi recipes like Punjabi chole, rajma, aloo paratha and so on.
Rassam Powder
VL & Sons Rasam Powder is a perfect blend of ground spices like coriander, jeera, chillies, lentils, black pepper etc.
Biryani Masala
Premium spices are used in the Biryani Masala, With no artificial fillers and freshly ground at our own Masala Chakkis. Our Biryani Masala is made of premium spices handpicked from natural farms across the country.
Sambhar Masala
This is the main ingredient that adds aromas and delicious taste to dish.This samber masala is Authentic Traditional Sambar Masala to make the Yummiest & Easiest Sambar ever.
Tea Masala
This Chai Masala is an Indian spice mix mainly used to flavor the milk tea (chai). This chai masala recipe is for a dry, ready-to-use spice powder that can be stored for a year.
Thandai Masala
VL & Sons thandai Powder is a versatile masala powder with the flavors of cardamom, saffron, rose and loaded with nuts, this powder is great to flavor your milk or use in desserts!
Chas Masala
Add a taste to your life with this instant butter milk masala powder. Contains coriander, cumin, chilly, fenugreek, tamarind, turmeric, asafetida, Bengal gram, black gram, pigeon pea to provide real Indian authentic taste.
Chat Masala
VL & Sons Chat masala is Chat masala is a distinctive Indian spice blend known for its chatpata (tangy ) taste that enhances the dish. It is used in fried savory and fruit based snack.
Chicken Masala
Our Chicken Masala is an exotic blend of aromatic spices handpicked from the freshest spices. It gives the right balance between the spice-elements and other ingredients in the dish.
Chole Masala
VL & Sons Chana Masala helps camouflage the bland taste of Chana and makes it a mouth watering treat for all occasions. It blends very well in the curry, giving it a unique aroma with traditional taste and flavour.
Kanda Lasun Chutney
VL & Sons Kanda Lasun chutney is a zesty blend of onion & garlic to add spice & flavour to your dish.A must for cooking Maharashtrian cuisines. Solution for everyday tasty food
Fish Curry Masala
VL & Sons Fish Curry Masala powder is fine blend of spices like Chilli, Coriander, Tamarind, Cumin and Garlic, among many more, VL & Sons Fish Curry Masala lends great taste, colour and texture to your fish curry.
Paneer Masala
VL & Sons Shahi Paneer Masala is the perfect addition to make your Shahi paneer curry taste mouth-watering, The smooth blend of spices imparts a rich flavour and delicious aroma to your recipe.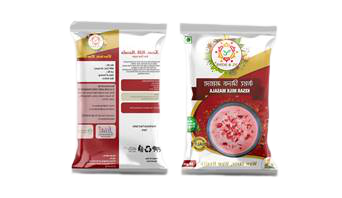 Kesar Milk Masala
VL & Sons thandai Powder is a versatile masala powder with the flavors of cardamom, saffron, rose and loaded with nuts, this powder is great to flavor your milk or use in desserts!
Panipuri Masala
Pani-Puri, make it better by simply adding VL & Sons Pani Puri Masala. It enhances the colour and gives a traditionally fresh and sour taste. Vl & Sons Pani Puri Masala is one such masala to give you the flavor of your finest spicy pani puri at home.
Pav Bhaji Masala
Vl & Sons Pav Bhaji Masala powder made with unique combination of spices.This recipe will yield you very flavourful masala which you can use to make pav bhaji .
Dum Aalo Masala
VL & Sons Dum Aloo Masala have an authentic flavour as we can personally choose the ingredients and thus ensure good quality too.
Garam Masala
VL & Sons Garam masala lives up to its name by enhancing the taste of your food like never before.This blended masala is made from the finest whole spices sourced from the best of origins.
Goda Masala
VL & Sons Goda Masala is a special spice blend unique to Maharashtrian cuisine. The spices used here are aromatic spices and these lend a subtle sweet aroma without hints of pungency & heat.
Jaljira Masala
Vl & Sons jaljeera masala is made from fresh coriander, mint leaves, and roasted cumin powder. Apart from being refreshing, it is also a good appetizer.
Kadi Patta Masala
In addition to the aroma and a striking taste, curry leaves possess rare medicinal properties.
Kitchen King Masala
VL & Sons Kitchen King Masala can be used in making several Indian dishes, especially Punjabi subzis. It can also be used while making a vegetable pulao or a biryani.
Kolhapuri Masala
VL & Sons Kolhapuri masala Powder is hot and fiery blend of spices. It is from Kolhapur in Maharashtra, India. It has beautiful flavors from spices and slightly nutty flavor from coconut.
Korma Masala
VL & Sons Korma Masala powder can be used for Vegetable Korma,Egg Korma, Chicken Korma Curry. It is very flavourful and different from regular Garam Masala .
Malvani Masala
Malwani dishes is among one of the traditional Maharashtrian style preparation. To make this dish it requires highly specialized ratio of spices to get the authentic taste.
Misal Masala
Ussal Missal Masala is Vl & Sons signature product. We process our masalas using special grinding techniques and specialized ration to get authentic Maharashtrian taste.
Mutton Masala
This masala is pepper-coriander-chilli based blend that imparts a dark tan and a hot taste to non-veg dishes, especially meat. Since Indians love their meat really spiced up.
Sunday Masala
Sunday Masala is a Maharashtrian specialty with Malwani influence. VL & Sons Sunday masala made at home and reserved for special Sunday family meals that generally involve some kind of meat or fish.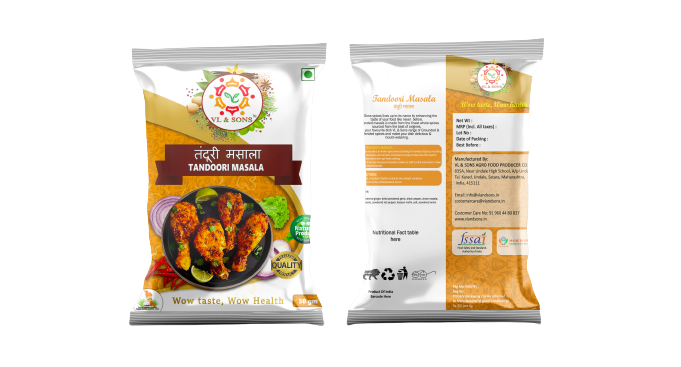 Tandoori Msasala
VL & Sons is a very spicy seasoning that gives tandoori chicken a distinctive taste.Tandoori masala is best spice used for making many tandoor dishes.
Chivda Masala
Delightful flavour of chivada prepared using our chivada masala – unique and consistent. Remarkable chivada prepared easily at home every time without any headache of spice blend proportions.
Pulses are an integral part of Indian cuisine in curries, dumplings, snacks, and even sweets.
VL and Sons is big name engaged in processing and supplying a premium quality Pulses in every part of country.VL & Sons Pulses are locally sourced from our Farmer members, processed and packaged under hygienic conditions. VL and Sons Products pass through stringent quality checks to ensure that it is free from extraneous matter and admixture of unwholesome substances owing to our zero tolerance policy for inorganic external particles, i.e, stones, sticks, chaffs etc. This ensures that the quality surpasses even the highest grade standards. Our pulses contain high proteins, folic acids, fibres, nutrition and are highly aromatic in test and adding affirmative fragrance in your daily meal
Key Benefits of VL and Sons Pulses:
Toor dal is a brilliant source of carbohydrates. Our dal not only increases the taste of your meals but also provided all kinds of nutrients. 
Benefits of VL & Sons Toor Dal : VL and Sons Toor Dal contains a very good amount of fiber in them which help in preventing problem like constipation. Risk of chronic diseases is also reduced with the intake of toor dals.For a balanced diet VL & Sons Toor Dal provide requisite proteinsVL and Sons Toor Dal are a very good source of carbohydrates due to which our body gets energy
Chana Dal (Chickpeas & split Bengal gram )
VL & Sons Chana ( Chickpeas) is a rich source of vitamins, minerals and fiber.VL & Sons chickpeas may offer a variety of health benefits, such as improving digestion, aiding weight management and reducing the risk of several diseases. Additionally, VL & Sons chickpeas are high in protein and make an excellent replacement for meat in vegetarian and vegan diets VL&Sons Chana Dal is suitable for those with the risk of diabetes because it is known for its low glycemic index. The level of protein in VL& Sons Chana Dal makes it an excellent source of the macronutrient amongst vegetarians and vegans.VL & Sons Chana dal is rich in B complex vitamins such as B1,B2,B3, and B9 which plays an important role in glucose metabolism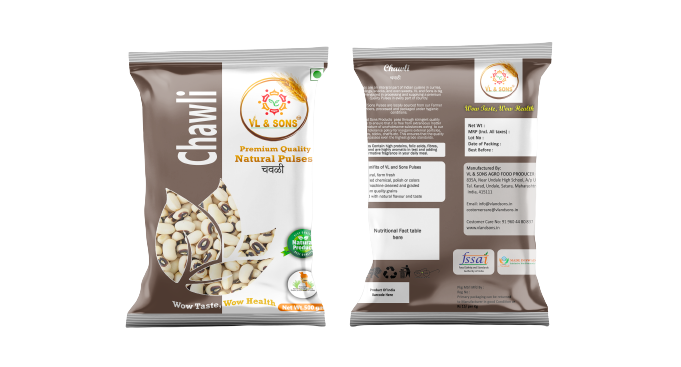 Chawali / Lobhia (Black-eyed Beans / cowpea)
VL & Sons Black-eyed peas are incredibly nutrient-dense, packing plenty of fiber and protein into each serving.
They're also a good source of several important micronutrients, including folate, copper, thiamine, and iron.
VL & Sons Black-eyed peas are very versatile and can be added to a variety of recipes, including soups, stews, and salads.
VL & Sons Daliya is Made with broken wheat, it is easy to digest and is full of nutrition. It is high in fibre and is believed to be one of the best foods for weight loss. It can be made in several ways and is one of the healthiest options for breakfast/lunch and dinner.
VL & Sons Puffed rice has virtually no fat and fills the stomach up, good for diet programs. It should always be paired with other foods for complete nutrition. It is high in iron content and a gluten-free diet.
VL & Sons Masoor dal is power-packed with nutrients and has immeasurable benefits. It can fulfil the nutritional and dietary requirements of an entire meal. This inexpensive dal does not need much time to soak or cook
When fresh peas are not available or when you want to enjoy a starchier, hardier flavored legume, VL & Sons dried peas or white vataana are the perfect choice as they are available any time of the year.Dried peas, a small but nutritionally mighty member of the legume family, are a very good source of cholesterol-lowering fiberDried peas also provide good to excellent amounts of four important minerals, two B-vitamins, and protein–all with virtually no fat.
Moong Dal (Green Gram/ Mung Bean)
Adding VL & Sons moong dal to your daily diet can have a range of health benefits, because of their high nutrient content. Mung beans are one best source of plant protein for vegetarians, imbued with notable amounts of essential amino acids including phenylalanine, leucine, valine, lysine, and arginineThe rich array of essential nutrients and antioxidants in moong dal offers a magnitude of health benefits including improves heart health, stimulate digestion, regulate blood pressure and promote weight loss.
North/ Matki (Turkish gram/ Moth Bean)
Matki is Rich in dietary fibre and protein for vegetarians. VL & Sons Moth Bean, Matki forms the core ingredient of Maharashtra's adored snack, Misal Pav. Sprouts are living foods that continue to grow even after you refrigerate them, as does their vitamin content. VL & Sons Moth is Rich source of vitamins and minerals.
One of the best sources of plant-based proteins The dietary fibre contributes to normal bowel function
VL & Sons poha is high fibre and a natural source of protein. Dietary fiber is an essential part of a healthy and balanced diet Protein is an important building block for the body. VL & Sons brings to you high quality Poha made from 100% rice. To keep your VL & Sons Poha crisp and free from unwanted moisture, we recommend placing it in an airtight container. This will prevent humidity or other external factors from ruining the texture and taste of the Poha. Each of our products is subject to rigorous and stringent checks, to maintain high quality.
India's love affair with hot plate of rajma chawal is no strange fact. VL & Sona Kidney beans are a major source of plant-based protein. It has number of health benefits that is sure to make you a fan
Urad Daal / Kali Daal (Black Gram/ Black lentil)
VL & Sons Urad Dal Known to be one of the best natural sources of protein. VL & Sons Urad Dal Whole is unpolished, i.e. it does not undergo any artifical polishing with water, oil or leather, thereby retaining its goodness and protein content. Black gram, also known as urad dal, is one of the most commonly found lentils in every Indian kitchen. It is used in various culinary recipes like dosa, vada and papad but most commonly it is used to make dal. Black grams possess many health benefits ranging from improving digestion to regulating blood sugar levels and also they are also used in Ayurvedic medicine too.
VL & Sons Lima beans are rich in nutrients, budget-friendly, and easy to prepare. Lima beans are an excellent source of molybdenum and a very good source of dietary fiber, copper and manganese. Lima beans are good sources of folate, phosphorus, protein, potassium, vitamin B1, iron, magnesium and vitamin B6.
VL & Sons Bajra is a rich source of insoluble fibre. It is good for heart patients to add bajra to their diet. Use it traditionally as a roti, khichri or porridge. Because of its rich nutritional profile, it is a great winter cereal.  Bajra can be used as a salad, or in various south Indian dishes like uttapam. Better still, it can be added to the traditional dosa or idly batter to improve their nutritional quality. Use it in one meal at least twice a week to reap the benefits of this amazing traditional food.
Great for regular meals the Regular traditional basmati and Indrayni rice, an exclusive offering of VL & Sons is celebrated for its aromatic taste and exotic flavor. The average-sized grains, which are sorted out of the Premium basmati rice boast of the same aroma and flavor as the latter. Presented in a very attractive and hygienic packaging, Regular basmati rice is processed and refined using latest equipment to sustain its rich aroma and taste. Our product variants are available in 1kg, 2kg,5kg,10kg, 25kg, packets. Customized packaging orders are also entertained.
VL & Sons wheat grains deliver a variety of important nutrients, including vitamins, minerals, protein, fiber, and other healthy plant compounds. VL& Sons wheat grain is heavier in weight, along with a golden sheen. Our  premium quality grain gives you the best, softer and fluffier rotis that are yummy to eat. You can enjoy the goodness of nature in every bite, It has a rich aroma, along with a distinct sweetness and its dough is softer too.
VL & Sons Jowar is about 70 percent starch and a good energy source. Good source of B-complex vitamins. VL & Sons Attractive Bold grains with pearly white colour.
Excellent flour quality for bread making.
Makki / Makai (Maize, Corn )
VL & Sons Corn provides many health benefits due to the presence of quality nutrients within. Besides being a delicious addition to any meal, it is rich in phytochemicals and provides protection against a number of chronic diseases. Being a good source of antioxidant carotenoids, such as lutein and zeaxanthin, yellow (or colored) corn may promote eye health. It is also a rich source of many vitamins and minerals.
For this reason, moderate consumption of whole-grain corn, such as popcorn or sweet corn, may well fit into a healthy diet.
Raagi / Nachani (Finger Millet)
Ragi is a whole grain that is gluten-free and a staple in South India.
It is rich in fiber that helps with weight loss and diabetes. It's packed with calcium, good carbs, ammino acids and Vitamin D. Ragi is a great source of iron making it beneficial for individuals with low haemoglobin levels. Ragi is the richest source of calcium. Ragi flour is used in making dosa, upma, idly, puri and mudde.
VL & Sons Farm peanuts has beautiful texture and even round shape and less oil content makes it preferable for direct consumption in various snacks and flavoured items. VL & Sons We offer finest quality Groundnut/Peanuts in the market. We are one of the prominent Groundnuts/Peanuts Manufacturer & Exporters from India. We process one of the finest qualities of Groundnuts/Peanuts.
VL & Son is giant producer of Soyabean  Which is an excellent plant based protien source. Our soyabean is a significant source of iron, calcium and soya protein. It is also a good source of omega-3 fatty acids, dietary fiber, vitamin b2, magnesium, vitamin k and potassium
Benefits:
It is known for high protein content- its exceeds than eggs, meat, milk. It is known to reduce the risk of osteoporosis in menopausal women and also ease other symptoms as it's a good source of isoflavones. It enhances bone health and digestibility. Textured or texturized vegetable protein (TVP), also known as textured soy protein (TSP), soy meat, or soya chunks is a defatted soy flour product, a by-product of extracting soybean oil. It is often used as a meat analogue or meat extender. Can be used as a meat replacement; and in a variety of dishes to add more protein and body to the food
VL & Sons mustard seeds contains a higher proportion of the volatile mustard oil and strongest flavor. Perceived as health benefiting spice, VL & Sons mustard seeds are indeed very rich in a phyto-nutrients, minerals, vitamins and anti-oxidants. It's spicy, peppery flavor goes well with other pungent spices like garlic ans chillies. Mustard seed, one of the oldest old spices, adds warmth and heat to your dishes. Packed in a seal pack bag and the completely sealed to preserve aroma, purity and to avoid any contamination.
VL & Sons Sunflower seeds are a perfect blend of crispy taste and incredible nutrition. These contain anti oxidants and vitamin E. They are good for heart's health. They can be eaten as a guilt free snack anytime of the day or can be used to garnish your dishes. True Elements Raw Sunflower Seeds are purely natural, jumbo and unprocessed seeds, extracted from a sunflower in its pure form. They possess a mild nutty taste, which cannot resist you from wanting it more and has a firm texture. Our seeds make a welcome addition to health-conscious diets. 
VL & Sons Sesame has one of the highest oil contents of any seed. With a rich, nutty flavor, it is a common ingredient in cuisines across the world. Like other nuts and foods, it can trigger allergic reactions in some people. Excellent Source of minerals, especially Manganese and copper. VL & Sons Sesame seeds gives rich, delicate nutty flavor, almost invisible crunch to your dishes. Sesame Seeds said to be Phytosterols lower cholesterol significantly. Sesame seeds are sometimes added to breads, including bagels and the tops of hamburger buns. Sesame seeds may be baked into crackers, often in the form of sticks. Packed in a seal pack bag and the completely sealed to preserve aroma, purity and to avoid any contamination
VL & Sons Jowar Flour is rich in protein iron and copper, this gluten free grain has been known to play a crucial role in cellular function and repair. Jowar flour can be used to make bhakri, theplas, and other Indian breads, where it can be used alone or mixed with wheat flour. Stuff with innovative fillings to make jowar parathas. The flour is also used in preparations like dhokli, khakras, muthias, etc.
VL & Sons Multi-grain flour provides a blend of nutrients in each grain. Multigrain atta has shown to be great in aiding weight loss as well. multigrain atta includes wheat, soya, chana, jowar, bajra, and ragi. Which gives you proteins, vitamins, minerals and fibre to make your family healthy and energetic.
VL & Sons Gram flour contains a high proportion of carbohydrates, higher fiber relative to other flours, no gluten, and a higher proportion of protein than other flours. Gram flour is used to make A variety of snacks, Sev, Bhajjis, Bhujia, Bonda, Boondi, Chakli, Chila//Dhirda (besan dosa), Dhokla/Khaman, Kadh, Zunka/Pithala/Pithla, Laddu, Soan papdi, Mysore pak, Pakoras, Papadums, Patra. In the form of a paste with water or dahi (yogurt), it is also popular as a facial exfoliant.
VL & Sons Maida is used extensively for making fast foods, baked goods such as pastries, bread. Flatbreads such as naan and tandoori roti are made using maida. Bhatoora is a fluffy, deep-fried, leavened bread made with maida and yogurt.
VL & Sons Soy flour is made by grinding roasted soybeans into a powder. Soy bean flour is considered a health food, and is used in many food products. It is 100% vegetarian high quality protein source that does wonders for young and old. Soy flour is rich in vitamins, minerals, isoflavours and lecithin, Soy is the best non-fish sources of eaaential omega-3 fatty acids.
VL & Sons sugar is made from superior quality Sugarcane. Sugar is pure, refined & has sparkling white and easy to dissolve sugar crystals. Sugar is Hygienically processed and does not contain sulphur Popularly used in the preparation of tea, coffee, halwa and other delectable dishes.
Our Jaggery Products such as Jaggery powder,  jiggery Cubes & Blocks are known for its pure and natural contents. Our jaggery adds traditional Indian taste to your foods. This golden-brown delicacy is highly nutritious, delicious and a healthier alternative to processed sugar and artificial sweeteners. Our jaggery is high in nutritious value. It contains carbohydrates, minerals, vitamins and other useful chemicals that are vital for human body. Our company is among leading natural jaggery Suppliers of the country.